We have a new home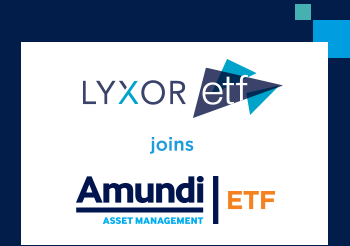 Read more
Privacy and cookies policy
This is the privacy and cookies policy for the Lyxor ETF website, which is operated by Lyxor Asset Management UK LLP (Lyxor UK).
Lyxor UK may obtain personal information about you during the course of your participation with the Lyxor ETF website, sometimes through the use of on-line or off-line forms.
The information you voluntarily provide us through this website or email (which may include your name, company, address and contact details such as your telephone number, email address or fax number) will be used for the following purposes:
2.1. to send you information and updates about products on the Lyxor ETF website;
2.2. to satisfy your requests, such as publications or information relating to Lyxor ETF;
2.3. to respond to your query if you have emailed us with an enquiry (for example, in relation to any Lyxor ETF or a forthcoming publication or event);
2.4. to send you further information and marketing materials about our services, products, publications, events or keep you informed through our periodic newsletters provided that you have indicated that you are happy to be contacted for these purposes.
We may (to the extent necessary) pass your personal information to members of the Societe Generale Group and Lyxor UK's partners, providers, and subcontractors (for whom we remain responsible in this regard) who assist us in providing the services we offer, such as fulfilling requests for information, receiving and sending communications, updating marketing lists, analysing data, providing support services or in other tasks from time to time. Our agents and contractors will only use your information to the extent necessary to perform their functions.
In the event that we undergo re-organisation or are sold to a third party, you agree that any personal information we hold about you may be transferred to that re-organised entity or third party.
We may disclose personal information about you if required to do so by law enforcement or other government or regulatory bodies and their officials or to third parties in connection with an investigation of fraud, intellectual property infringement, breach of any law or other activity that is illegal or which may expose us to legal liability, or in order to protect our rights and property.
Your personal data may be processed by staff operating outside the European Economic Area ("EEA") or your local jurisdiction who work for us or for one of our suppliers chosen for their expertise in certain areas. This may, for example, happen if one or more of our servers are from time to time located in a country outside the EEA or one of our service providers is located in a country outside the EEA. If we transfer your information outside the EEA in this way, we will take steps to ensure that your privacy rights continue to be protected



This policy explains how our website uses Cookies. It forms part of the important information and the terms and conditions of our website.
A cookie is a small file, typically of letters and numbers, downloaded on to a device when the user accesses certain websites. Cookies allow this website to recognise your computer throughout your session.
The Lyxor ETF website uses a combination of the types of cookies listed below:​
What cookies do we use?
What is the purpose of the Cookie?
What is the shelf life?
JSESSIONID

These cookies are used to customise the visitor experience and save the user preferences by linking it to the website account.


Session
_ga
This cookie name is asssociated with Google Universal Analytics - which is a significant update to Google's more commonly used analytics service.

This cookie is used to distinguishes unique users by assigning a randomly generated number as a client identifier.


2 Years
_gat

This cookie name is associated with Google Universal Analytics, according to documentation it is used to throttle the request rate - limiting the collection of data on high traffic sites.


10 minutes
disclaimerinstit

These cookies are used to remember if the visitor has accepted the disclaimer for institutional profile


1 Month
​
Most web browsers allow some control of most cookies through the browser settings.

You may also delete and block all cookies from the Lyxor ETF Website but parts of the Lyxor ETF website may not work.
To find out more about cookies, including how to see what cookies have been set and how to manage and delete them, visit www.aboutcookies.org or www.allaboutcookies.org.
The Lyxor ETF website may, from time to time, contain links to and from the websites of our partners, advertisers or other websites providing relevant information. If you follow a link to any of these websites, please note that these websites have their own privacy policies and that we do not accept any responsibility or liability for these policies. Please check these policies before you submit any personal data to these websites.
You have the right to ask for a copy of the personal information we hold about you in our records by writing to Lyxor ETF, SG House, 41 Tower Hill, London EC3N 4SG. Alternatively, you can email info@lyxoretf.co.uk.
You also have the right, at any time, to object to the processing of your personal information, to require us to correct any inaccuracies in your information or to remove such information or to request us not to process your personal data for marketing purposes.
You should contact us at the above address if you wish to do any of these things. We will retain in our files certain information you have requested us to remove in order to resolve future disputes, to troubleshoot problems or to enforce the Terms. We will retain data only for the duration of the purpose for which it was obtained and may need to retain some details about you after your relationship with Lyxor UK has ended, for example for legal and regulatory purposes.
If you no longer wish to hear from Lyxor ETF about opportunities or if any of your details change, please inform us by email at info@lyxoretf.co.uk.
Any changes we may make to our privacy policy in the future will be posted on this page and, where appropriate, may be notified to you by e-mail.
"-mkto_trk"
This cookie is associate with an email marketing service provided by Marketo. This tracking cookie allows a website to link behaviour to the recipient of an email marketing campaign, to measure campaign effectiveness.
[1] Lyxor Asset Management, Lyxor International Asset Management, Lyxor Intermediation, Lyxor Asset Management UK LLP, Lyxor Asset Management Inc.